As National Volunteer Month comes to a close, we continue to reflect on how fortunate we are to have our incredible network of volunteers! With your support and encouragement, we've successfully pivoted our model several times in ways that best serve the community. Our network's embrace of both virtual and hybrid volunteering has played a huge role in helping us to grow our impact to unprecedented levels - over 300,000 lives impacted and $4M in contributions since Covid began! Visit this page to see the full Annual Impact Report and learn more about our volunteer's contributions in 2021.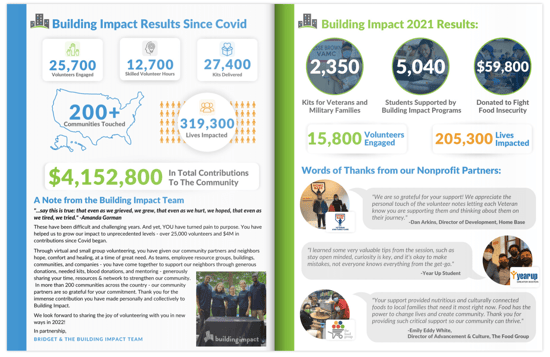 As teams, employee resource groups, buildings, communities, and companies - you have come together to support our neighbors through generous donations, needed kits, blood donations, and mentoring. Through virtual and small group volunteering, you have provided our community partners and neighbors with hope, comfort, and healing at a time of great need. Thank you for generously sharing your time, skills, and hearts to strengthen more than 200 communities across the country - our community partners are grateful for your commitment!
We look forward to sharing the joy of volunteering with you in new ways in 2022. If you want to expand your organization's impact and take your volunteer leadership skills to the next level, we encourage you to apply to become an Impact Fellow! Applications close May 13th, 2022.
We appreciate the immense contribution you have made personally and collectively to Building Impact. We cannot wait to celebrate you at Building Impact's NonGala on June 23rd!