This spring Building Impact is partnering with YW Boston and Boston Children's Chorus to foster important conversations about race and embracing our differences. We are very excited to partner with YW Boston for the second year! Building Impact will be teaming up with the YW Boston to support their annual, nationwide Stand Against Racism movement with Pledge Boards in lobbies and buildings throughout the city.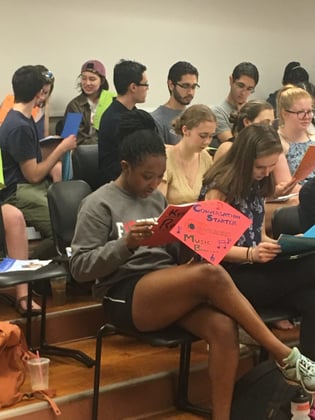 With Boston Children's Chorus we will be offering Conversation Starter Music Booklets to our corporate partners as an in-office volunteer opportunity. These music booklets encourage the next generation to have these important conversations about their vision for Boston. It is not only critical to have these conversations ourselves, but it is important to inspire and encourage those who follow in our footsteps! BCC brings 500 kids together from all 110 zip codes in the greater Boston area to not only create musical harmony, but social harmony. BCC encourages its singers to come together and embrace all their differences whether that is race, religion, gender, or socioeconomic status. We are thrilled to partner with BCC to raise awareness of the incredible work they are doing in harnessing the power of music to bring people together and bring about social change.
Spring is a time of new beginnings. We encourage you to challenge yourself to think about how you are bringing about social change, and how can you advance racial equity. Not just this month, but every month at Building Impact we pledge to foster important conversations that we hope will inspire and catalyze change. Thank you for taking this pledge with us!
-- Kaliya Johnson, Building Impact