This Volunteer Appreciation Week we want to shoutout and thank our community partners for opening their doors to our volunteers and providing essential services to our community every day. By partnering with us to co-design volunteer projects, sharing their needs with us, encouraging us to join in on learning conversations, and welcoming our volunteers on-site, our partners make our work possible! We are constantly learning from our nonprofit partners, who are experts in the needs and lived realities of the community members they serve. Their input gives us the foundation necessary for designing programming that is accurate, equitable, and impactful.
Nonprofit Partnership Stepper: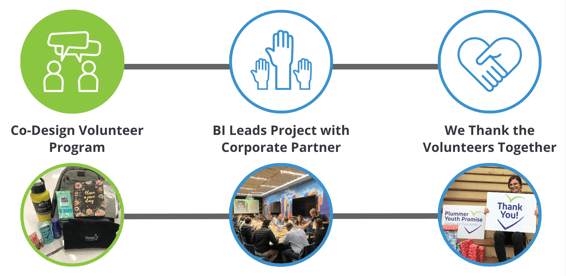 Through these essential nonprofit partnerships, Building Impact's Volunteer Network was able to touch over 350 communities across the country and impact more than 160,000 lives in 2022 alone! Our volunteers consistently express gratitude for these opportunities to serve and for the volunteer experiences that are made possible through these partnerships. Below, we've included some of our favorite words of thanks from volunteers to help demonstrate the deep gratitude we share for our nonprofit partners.
"It is amazing to have an opportunity like this project to help make a difference in someone's life and to see them smile. Thank you so much! I really enjoyed our two speakers from the different Ronald McDonald Houses who talked about their experience and work." - Volunteer from Memfault | Welcome Bags for families staying at Ronald McDonald House.
"KS Partners LLC was proud to team up with the Billerica Community Pantry and Building Impact for some volunteer time. At the Billerica Community Pantry, they strive to improve and sustain the quality of life in Billerica, Massachusetts by providing necessities to individuals and families with food insecurity. We are so grateful for the opportunity to lend a hand to such an amazing organization." - KS Partners | Inventory and outdoor beautification project at the Billerica Community Pantry.
"I am a big supporter of Pine Street Inn and I think this is such a wonderful initiative. Because of a family illness, I am unable to work in person in the office, so I am so thankful to still have been able to participate in this project. Thanks so much for organizing this effort and helping to bring change to our city." - Volunteer at Cambridge Discovery Park, a Bulfinch Property | Winter Warm Up Kits for individuals supported by Pine Street Inn.
At Building Impact, our mission is rooted in strengthening community. We are proud to partner with nonprofit organizations that are on the ground working on crucial social issues and helping to ensure that every individual is known, loved and valued. We gratefully acknowledge our community partners for opening their doors to us, sharing their work and together building community! Thank you!
If your organization is interested in joining the Building Impact National Nonprofit Network, visit this page to learn more.