With the days getting warmer, more and more organizations are rolling out their spring return-to-office plans. Many employees are questioning what their organization's culture will feel like, how their teams will operate, and how they'll stay connected with their remote coworkers. Particularly at a time when reentry to the office can present new challenges, service and volunteering are ways that we see teams reasserting their organization's inclusive culture and values.
Recently, articles from scholars like Arthur C. Brooks (who created the very popular Harvard course on "Happiness") point to the fact that one-off happy hours and free office snacks may motivate some employees, but a vibrant culture infused with service will fulfill your team. Creating opportunities for your teams to volunteer together will connect your employees to a common cause and provide new opportunities for leadership. By dedicating time to learn about community challenges and volunteer together, teams can forge deep bonds over their shared values. These bonds go far beyond an individual's role or level within an organization.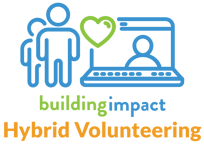 With the understanding that organizations will have a mix of in-person and remote workers for the foreseeable future, Building Impact has launched an innovative approach to volunteering: Hybrid Volunteering.
With Hybrid Volunteering, companies can host an event that engages all team members, including those present in person and remotely. Everyone has the opportunity to be engaged with a local organization.
Building Impact co-designs the projects to meet local community needs, utilizing a technology platform to support the delivery capabilities and inventory capacity of each local community organization.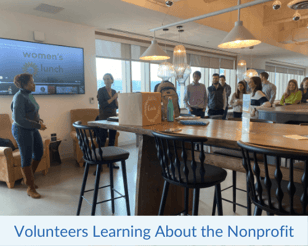 When you schedule a Hybrid Volunteering event, your volunteers will learn about the local nonprofit organization together, engage with a sample kit, and then use the Building Impact platform to assemble and design their own. All volunteers write notes of uplift to connect with the individuals supported by the project.
Hybrid Volunteering moves away from complex event planning to resource-rich projects for the nonprofit organizations we serve. Hybrid Volunteering lowers the carbon footprint of volunteering and dedicates a greater portion of the investment to the kits delivered, increasing the overall impact of the program. Kits created meet the direct needs of the nonprofit, and offer organizations an engaging experience that unites teams for a common cause.
True to our mission, Hybrid Volunteering builds meaningful connections - strengthening the community in your team and beyond!
Click here to schedule a Building Impact Hybrid Event for your team!