For the over 6,000 people experiencing homelessness in the city of Boston, the last few days have been extremely dangerous and many of Building Impact's nonprofit partners are strapped for resources as they struggle to shelter, feed and serve more individuals than usual.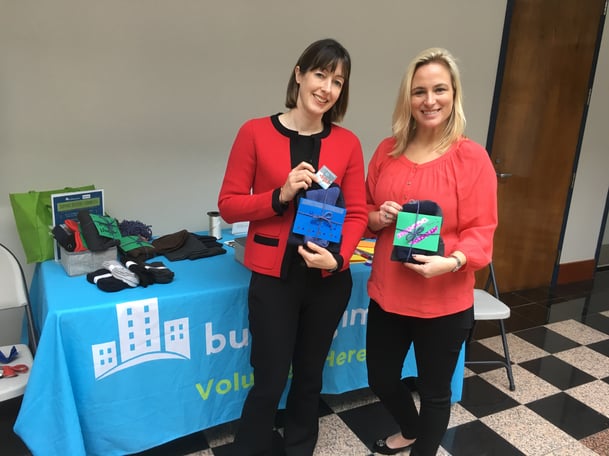 A recent Boston Globe article "For homeless people cold is life-threatening," highlighted the immediate need. "It has never been this bad," said Karen LaFrazia, president of St. Francis House, a day shelter in Boston. "It's just so frozen. I see people coming in with their hands bloated, skin purple. . . . You can sort of see people hunkered into themselves." Boston South Station has kept its doors open for people to stay overnight and the Pine Street Inn street outreach team has been working 24 hours a day giving out food and blankets and trying to get people to come into shelter.
Homelessness impacts our community every single day. Despite the fact that Boston has a thriving economy and large number of nonprofits and government agencies working to end homelessness in our city, during the City of Boston's 37th Annual Homeless Census, 6,327 people were counted as homeless in January 2017 including single adults and families. According to the St. Francis House, the cost of living in Boston is more than twice the national average and it's extremely difficult for those working minimum wage jobs to make ends meet. As our community partners at the Pine Street Inn, Massachusetts Housing and Shelter Alliance, and Women's Lunch Place will explain — complex issues such as mental illness, substance abuse and domestic violence can lead to homelessness, but so can any interruption or unexpected expense such as an illness or lost employment. The Women's Lunch Place shares a survey conducted by Bankrate in 2017 in which 63% of Americans indicated they were only one paycheck away from the street, in the case of an unforeseen expense.
Building Impact has long term partnerships with many organizations that are fighting to end homelessness in our community, restore dignity and empower those caught in the cycle of homelessness to get back on their feet. Through donation drives and volunteer projects providing trail mix for street outreach, meals at shelters, and scarves and blankets, our goal is to raise awareness about homelessness, and build support for local nonprofit organizations on the front lines of serving people experiencing homelessness. Our partners are not only actively working to provide individuals with housing and food but also advocate for policy change and long term solutions. We are excited that Mayor Walsh just announced an effort to raise $10 Million for Boston's Way Home Fund in partnership with the Pine Street Inn to build 200 units of housing for those experiencing chronic homelessness.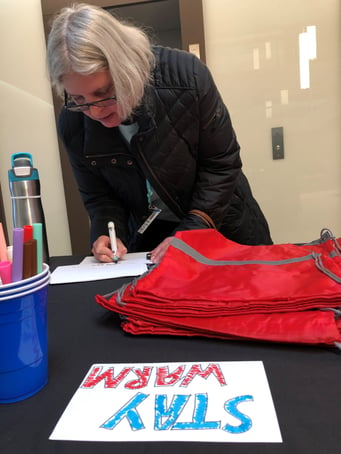 As the cold weather drags on, hundreds of people in need of services are straining the shelter system and city resources. As our Community Partners increase their outreach efforts and make room for hundreds more people, they are asking for donations of hats, gloves, hand warmers, winter coats, and footwear — they are giving out supplies as fast as they come in. We have worked to compile a wishlist of these items from the Pine Street Inn and St. Francis House to encourage members of our network
to make purchases from Amazon to be shipped directly to the shelters in the next couple of days. Every donation helps, and will be given directly to those most in need of our support. If you would like to do more to support this effort, please reach out to us at volunteer@buildingimpact.org.
We need your help to step up and support those most vulnerable to this dangerously cold weather and the organizations working around the clock to keep them safe.
Written by Sara Sargent,