The Impact Fellows Program was designed to bring together a diverse cohort of Boston professionals to dig deeper into what it means to strengthen the community through volunteering. The Impact Fellows explored complexities and nuances of volunteer projects as well as the power imbalance between nonprofits and their corporate partners. The program is based on Building Impact's model of listening first to nonprofit needs, co-designing a project, and then serving and measuring the impact.
Transforming Corporate Volunteering in Boston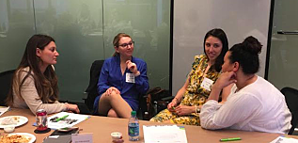 Our diverse cohort brought insights from industries including commercial real estate, finance, life sciences and tech. We were also fortunate to have among our cohort working professionals with leadership roles in community organizations like Women with Purpose; the Woodrow Avenue Neighborhood Association (WANA), and the Boys & Girls Club of Boston. All members of the Impact Fellows were socially-minded professionals - some had Employee Volunteer Programs as part of their job descriptions; but most were taking this on within their teams out of a personal commitment to the community.

In the classroom, our cohort had a chance to discuss complex social issues in our city. We heard from Boston leaders like Sheena Collier, Founder of the Collier Connection @collierconnect and Director of Economic Opportunity for the City of Boston, who helped us map out the stakeholders involved in community work with nonprofits, schools, and companies.Together we discussed how to create inclusive spaces in community conversations and projects.
As a part of the course, our cohort also had the chance to tour and learn from the staff at Bridge Over Troubled Waters (@BridgeOTW), a leading agency in providing shelter and services to youth experiencing homelessness. Through the visit, we lear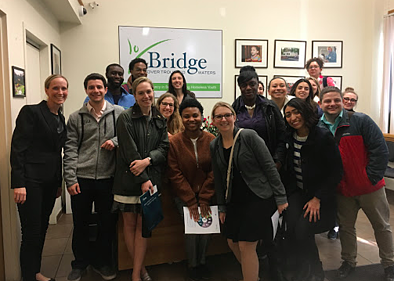 ned about Bridge's innovative model and wrap-around services, and the strength of the youth who seek them. We heard that over thirty percent of youth who are homeless have spent time in the foster care system, and one in four of these youth identify as LGBTQA+. As our session at Bridge Over Troubled Waters wrapped up, our Impact Fellows took the ten-minute walk across downtown Boston back to the freshly renovated office building where we would hold our seminar discussion. As we walked our conversations were
full with the mind-boggling contrast that comes with living in a city like Boston. We live in a city full of opportunity and yet here were young people facing challenges to accessing the most basic needs. We ended this session with a discussion about what we could do to open doors to new opportunities.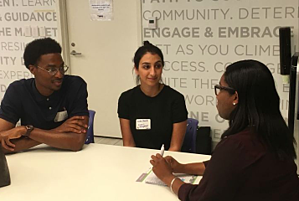 In the weeks following, we had the chance to work with our partners at Year-Up (@Year
UpBoston), Jacqueline Baiza and Joyce Wang, to design a service day focused on bridging the opportunity divide. Year-Up is a career readiness program that trains interns in high-demand skills which they put to work in professional internships. Recognizing the diversity of industries and roles our cohort represented, our Impact Fellows co-designed an event that allowed each YearUp intern to conduct two informational interviews with Impact Fellows from diverse industries. Impact Fellows also hosted discussions on topics such as using a recruiter, networking tips and current opportunities at the Impact Fellow's companies. From the icebreaker to the exchanges of LinkedIn information at the end, the event focused on creating opportunities by building connections.
In a survey following the program, Impact Fellows said the best part of the program was the dialogue and the new relationships. The conversations were complicated and layered to reflect the complexity of the socials issued in our city. As one fellow said "Each week's specific focus helped add an entirely new dimension to what I knew to be the proper way to be of service and volunteer. I could do this entire 5 weeks over and would likely pull out a new dimension from the exact same content."
Our Impact Fellows program earned a Net Promoter score of 94
87% of our Impact Fellows said it changed the way they viewed the relationship between nonprofits and companies
The growing desire of companies to give back to the community is creating incredible opportunity. The question is how can we harness the resources and best intentions of our teams to do the most good? Through the Impact Fellows Program, Building Impact had the opportunity to convene a cohort of socially minded leaders in Boston who are committed to transforming the way their companies volunteer. Here more about their experience in our Impact Fellows video from their final night together.